Champion Buses
The name speaks for itself. Dedication. Performance. Achievement. That's what we do and who we are. Our customers deserve quality and the peace of mind that only a skilled workforce with an ever-onward dedication to safety can provide. Now that's something to be proud of.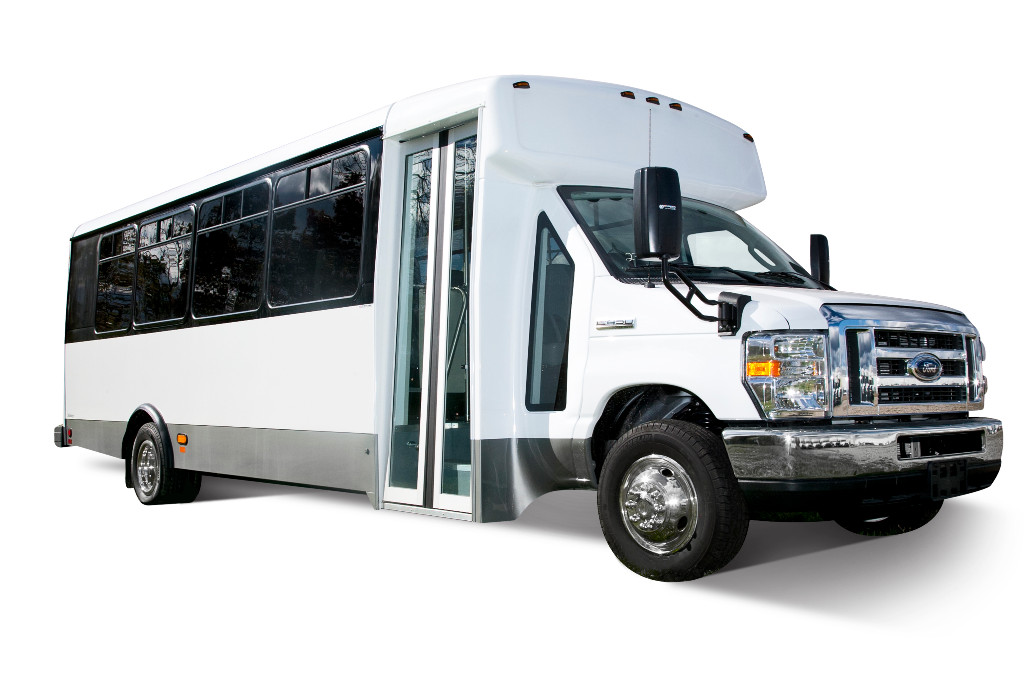 The Challenger is available on multiple chassis platforms and a variety of lengths to fit your transportation needs. Its wider body can accommodate many passenger configurations, ideal for longer routes and applications. The Challenger can be versatile in markets such as transit, para-transit, parking, hotel, assisted living, healthcare, tour and college.
Exterior
Additionally, this model has improved aesthetically with a new stylish front cap and sleek one piece fiberglass rear cap. Right-hand entry way window and large windows enhance driver and passenger visibility.
Interior
With dozens of floor plan options, Challenger can seat up to 25 passengers with optional ADA configurations. High floor designs are also available.
SPECIFICATIONS
Seating capacity: Up to 25 passengers
GVWR: Ford: 12,500# & 14500#; Chevrolet: 12,300# & 14200#
Wheelbase: Ford: 158", 176", 190", 208"; Chevrolet: 139" 159", 177", 187"
Chassis: Ford: E350 & E-450; Chevrolet: Express 3500/4500
Engine: Ford: 5.4L Gas 6.8L Gas; Chevrolet: 6.0L Gas, 6.6L Diesel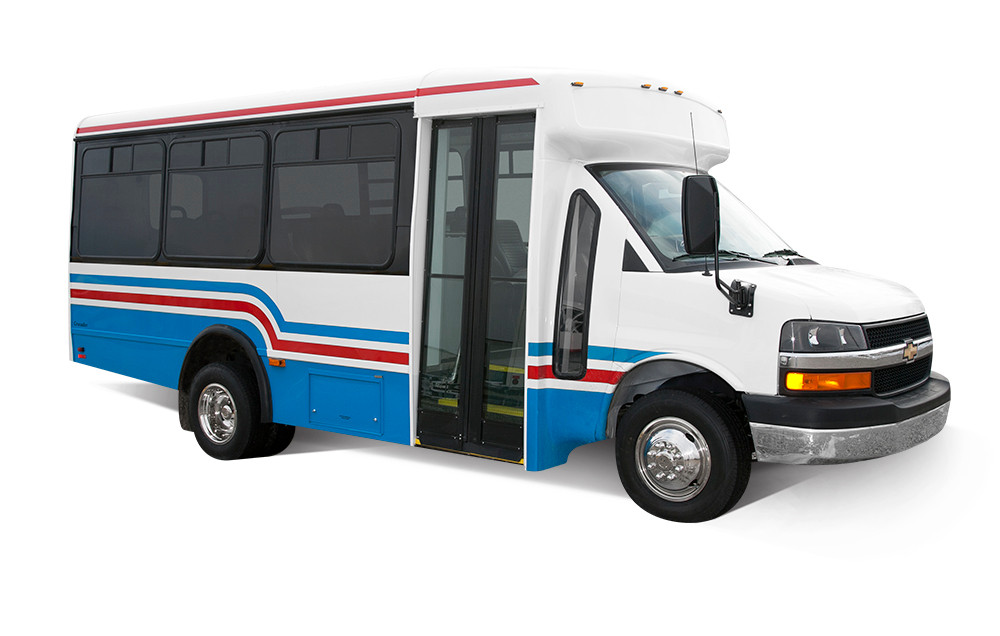 This highly maneuverable, narrow-bodied shuttle is ideal for shorter trips and narrow, one-way streets. Choose between a Ford or Chevrolet chassis and enjoy upgraded interior finishes and exterior body style. Crusader is the go-to model for public transport, assisted-living facilities, hotels, and para-transportation.
Exterior
Champion uses 1 1⁄2" x 1 1⁄2" 16-gauge tube galvanized steel cage and a full galvanized metal to build the Crusader's narrow body, making it one of the safest and most robust buses in the industry as well as highly maneuverable.
Interior
Multiple non-CDL floor plan configurations can accommodate up to 14 passengers.
SPECIFICATIONS
Seating capacity: Up to 14 passengers
GVWR: Ford: 11,500# & 12500#; Chevrolet: 12,300#
Wheelbase: Ford: 138" 158"; Chevrolet: 139" 159"
Chassis: Ford: E350; Chevrolet: Express 3500
Engine: Ford: 5.4L Gas 6.8L Gas 6.0L Diesel; Chevrolet: 6.0L Gas, 6.6L Diesel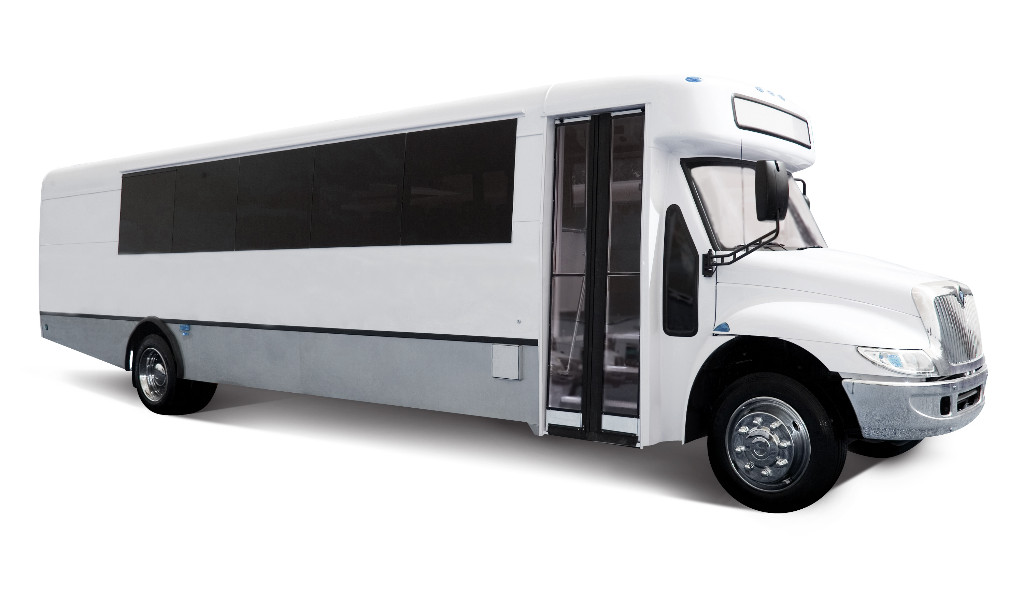 An Altoona tested medium-duty shuttle bus with robust performance. The Defender's sturdy structure and wide body offers the greatest passenger capacity in the medium-duty category; up to 45 passengers. This also allows the bus to span longer distances than most. The Defender is offered on multiple chassis platforms, ideal for tour, transit, para-transit and higher learning.
Exterior
The Defender's galvanized exterior offers a sleek look and easy maintenance. There are a variety of graphics packages and paint schemes available as well to surpass any customers expectations.
Interior
Floor plan options are abundant with dozens of configurations seating up to 45 passengers. The Defender also can be customized to meet specific requirements for the prison transport industry.
SPECIFICATIONS
Seating capacity: Up to 45 passengers
GVWR Ford: 18,000 – 19,500#; Freightliner: 26,000 – 27,500#; International : 23,500 – 27,500#
Wheelbase: Ford: 165", 189", 201", 233"; Freightliner: 220", 234", 259", 288" ; International : 193", 205", 217" 236", 254", 291"
Chassis: Ford F550; Freightliner M2; International 3200
Engine: Ford 6.8L Gas, 6.7L Diesel; Freightliner Cummins ISB 6.7L Diesel; International Maxxforce 7L, DT 7.6L Diesel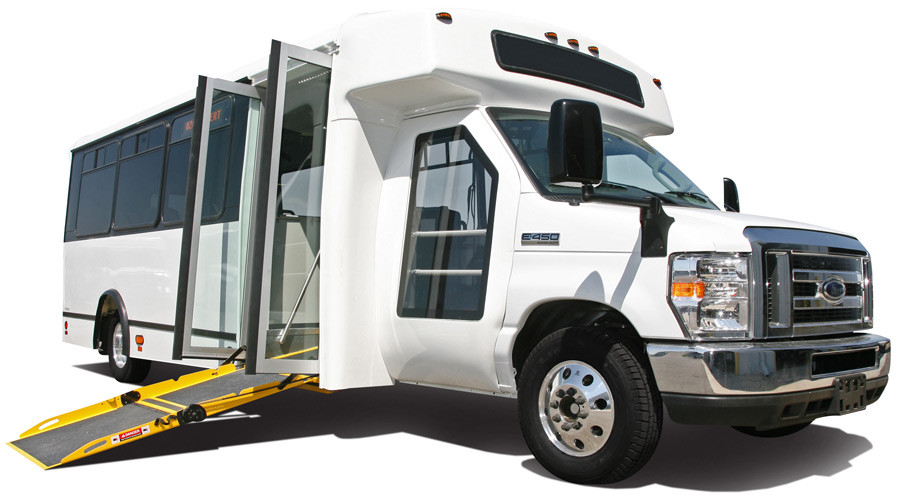 This low-floor shuttle bus has it all – single-slope EqualizerRamp®, IntelliSync® "Smart" suspension system with low-speed OverRise™ function and no lifts or multiple step entrances. And, it's built like a Champion for unmatched durability.
Exterior
The LF Transport™ utilizes Champion's signature commercial bus design with sleek lines and a classic front cap style. A large passenger-side cab window increases the driver's curbside visibility for safe operation at scheduled stops.
Interior
The LF Transport™ is offered in a range of lengths that allow for many variations of floor plan configurations to meet desired seat-to-wheelchair ratios. A 102″ wide true flat floor provides a spacious interior for ADA and customer maneuverability..
SPECIFICATIONS
Seating capacity: Up to 45 passengers
GVWR Ford 14,500#; Chevrolet 14200#; International 19500#
Wheelbase: Ford 189", 208"; Chevrolet 186", 208" ; International 240"
Chassis: Ford E450; Chevrolet G4500; International UC
Engine: Ford 6.8L Gas; Chevrolet 6.6L Diesel & Gas; International Maxxforce 7L, 300HP