How To Purchase A Reliable Shuttle Bus
If you are looking to buy a shuttle bus, you should do a lot of research before making your purchase. There are many sites available on the internet where you can find out all you need to know about any of the models that are available. At Matthews Buses Commercial, we aim to find a shuttle bus that is right for you. Our goal is to put you behind the wheel of the best vehicle that fills your need. Many times, you will find that companies do not take your interests into consideration when offering their buses to you, but, we make sure we listen to what you are seeking and we will find the one you want. We have been in business since 1979 and serve our customers with the care they require. We have many different types of buses available and if you don't find what you are looking for, we can have it built for you.
There are many other upgrades which are available and can be easily installed before you pick up this shuttle bus. It has received many great reviews for its reliability and performance. The bus is white with a gray interior and has an automatic transmission. You will want to see this one to believe it. You can also apply for financing on this model through our websiteor at our location. Our salesmen are knowledgeable about all of our vehicles and will be more than happy to set you up with this bus. You can schedule a test drive of it and see for yourself just how easy this bus is to handle on the road.
Matthews Buses Commercial has been serving our customers with care for many years and we have a great service department where you can have anything repaired. Our warranties have been noted to be the best in the business and we stand behind each one of our vehicles. Pricing on our buses are competitive and we will often go out of our way to get you the best deal. Talk to one of our specialist about what you need.
>>Related Content: Charter Buses for Sale
Want More Info?
Give us your details and we will contact you to answer all your questions.
New 2018 Elkhart ECII For Sale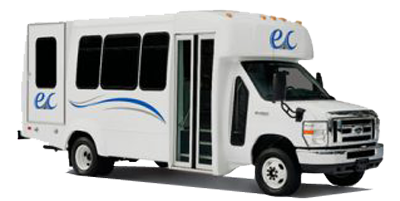 The Elkhart ECII is a rugged vehicle which is equipped with many of the things you need. It will carry 24 passengers and most of the seating will recline, including the drivers seat. Some of the other features of this beautiful vehicle are:
6.8L gas engine
Reclining passenger and driver Seats
Flip up armrests
Grab rail at entrance
Extra wide 36″ entry door
Door alarm at rear door
Overhead luggage racks
Individual lighting at each seat
Back up alarm
Fire extinguisher
First Aid kit
Training Available
We have a trainer available that can not only show you the proper way to use your new bus but allow your own maintenance team a chance to find out how to keep it running smoothly. Our trainer will either do this at our facility or he will visit your location to conduct training. Our customers are our first obligation and we will do whatever we need to do to help you. If you are interested in any of the vehicles we have located on our website, you can contact us for more information. Our staff will be happy to go over any of them with you. If you don't see what you want on our web page, we will be glad to customize and build one for you, contact an agent for more information on this.
On overall, for all your assisted living buses needs, kindly contact us! We will make it a worthy experience.