Federal Coach Buses
There's a reason why Federal Coach is America's fastest growing luxury bus brand. In fact, you could say that there are quite a number of excellent reasons.
Our full line of painstakingly crafted shuttle, executive and limo buses are purposefully designed to deliver the perfect balance of style, luxury, comfort and value for 12 to 44 happy passengers, depending on the model that's right for you.Built on rugged, yet smooth-riding Ford, Freightliner and International chassis, we are committed to producing the highest quality vehicles on the market today – backed by the industry renowned customer care that only Federal can deliver.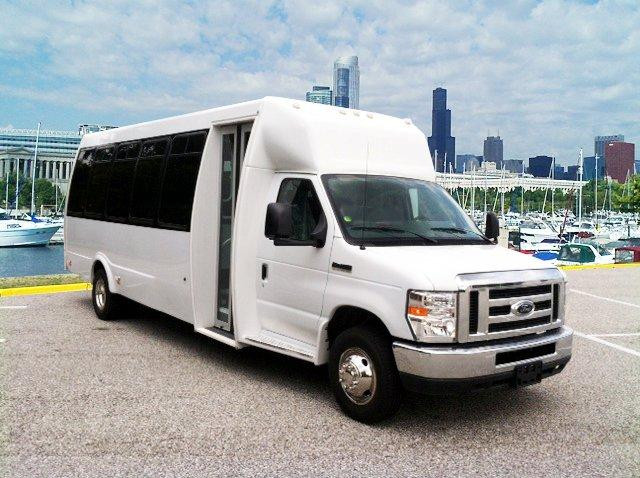 For transporting corporate executives and larger groups who demand high-end transport at an affordable cost, the Spirit Shuttle Bus line from Federal Coach always comes through. By continuing to lead the industry in luxury coach innovative conversions, we can transform your bus into a corporate-style executive coach or luxury limousine.
Aesthetically pleasing with its curved radius sidewalls and large touring windows with black-out trim, the Spirit's all-fiberglass body and the one-piece fiberglass roof extends the life of your bus against road salt and other corrosive agents.
Whether you choose a typical coach arrangement or limousine-style seating with a wide array of amenities, the Spirit Shuttle Bus will exceed expectations for style and comfort. From flat-screen LCD TVs, high-end seating, special LED lighting packages and black-out windows, to fixed and removable wood tables and bars, this remarkable vehicle will impress even the most discriminating passenger.
SPECIFICATIONS
Seating capacity: Up to 25 passengers
Wheelbase: 158", 176", 202", 208",
Chassis: Ford E-Super Duty Cutaway E-450
Engine: V-10 Gas Fuel Injected 6.8L Engine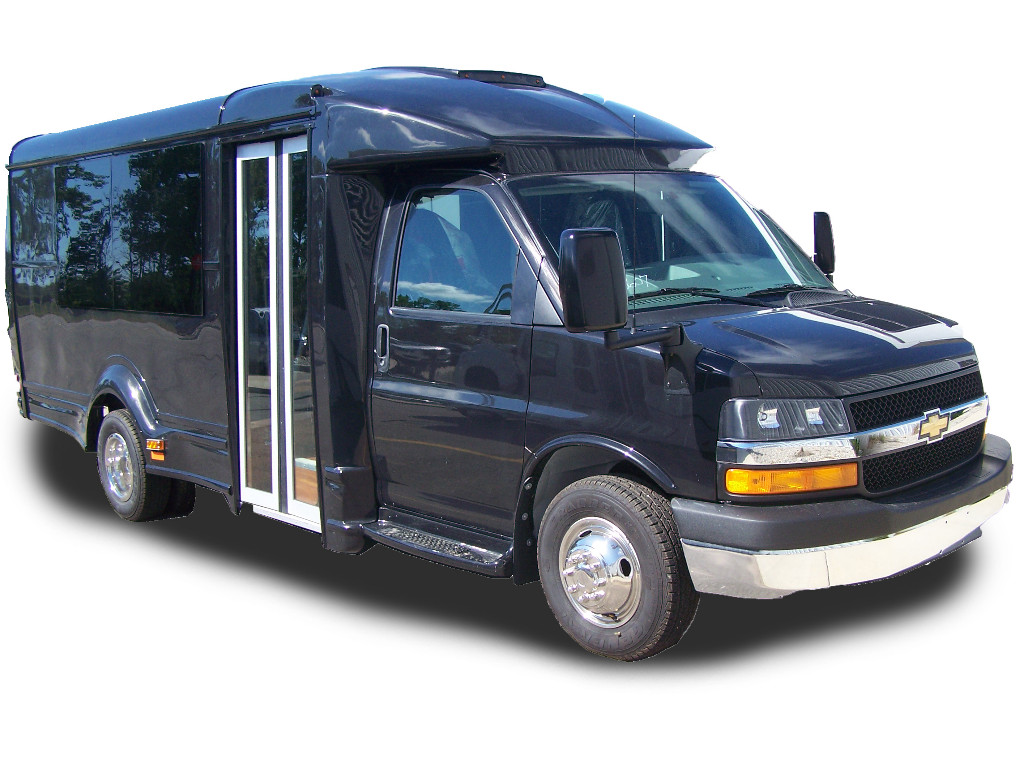 Who says a narrow body corporate shuttle has to cramp your style? Not us. At Federal Coach, shorter-trip shuttle operations now have the ability to deliver the smooth comfortable ride and luxurious feel that we're famous for and that your VIPs have come to expect and deserve from us.
Our sleek, elegant exterior with painstaking attention to fit and finish doesn't just set this bus apart. Large, inviting windows and masterfully applied paint tells passengers instantly that they are in for something special.
With ample room for a dozen corporate executives and their belongings, the Spirit CS provides amenities often not found on similar transport. This remarkable bus is more than just comfort refined – it redefines the entire category. Amenities include (need interior amenity info here).
SPECIFICATIONS
Seating capacity: Up to 12 passengers
Wheelbase: Chevy G3500 Cutaway 159" Wheelbase; Ford E350 158" Wheelbase
Chassis: Chevy G3500 Cutaway; Ford E-Super Duty Cutaway E350
Engine: V-8 Gas, Duramax Diesel (Chevy)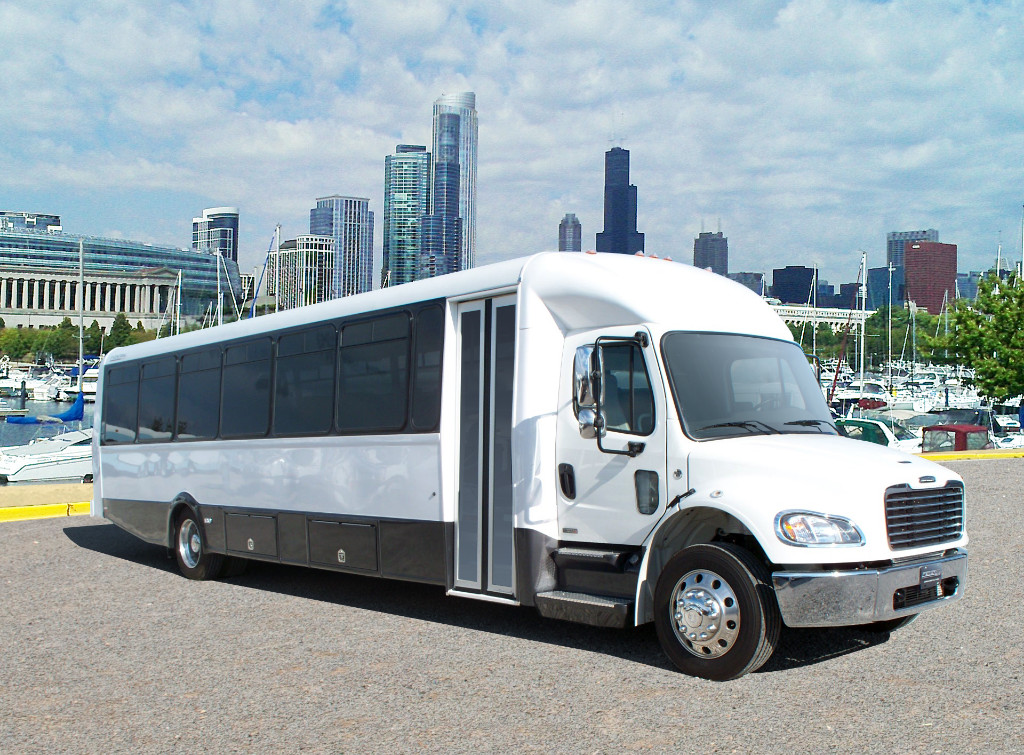 For a large-group transportation solution built for dependability, durability and coupled with all the luxury that Federal Coach is known for, our Premier Shuttle Bus is your go-to solution.
Built on a heavy-duty Freightliner chassis, the Premier stands for durability without sacrificing luxury. With an all-fiberglass body, frameless windows, a one-piece fiberglass roof and available painted skirts, the Premier sets the standard in large bus elegance and stunning road presence.
With standard features like interior LED lighting and large touring windows, passengers will experience style and comfort like never before. Available amenities include LCD flat screen TVs, back-up camera and alarm, and under belly storage. The Premier also provides rear and overhead luggage options for longer excursions.
SPECIFICATIONS
Seating capacity: Up to 42 passengers
Wheelbase: 270" & 305" Wheelbase
GVWR: Up to 27,500 GVWR
Chassis: Freightliner M-2
Engine: Cummins ISB 6.7 300 HP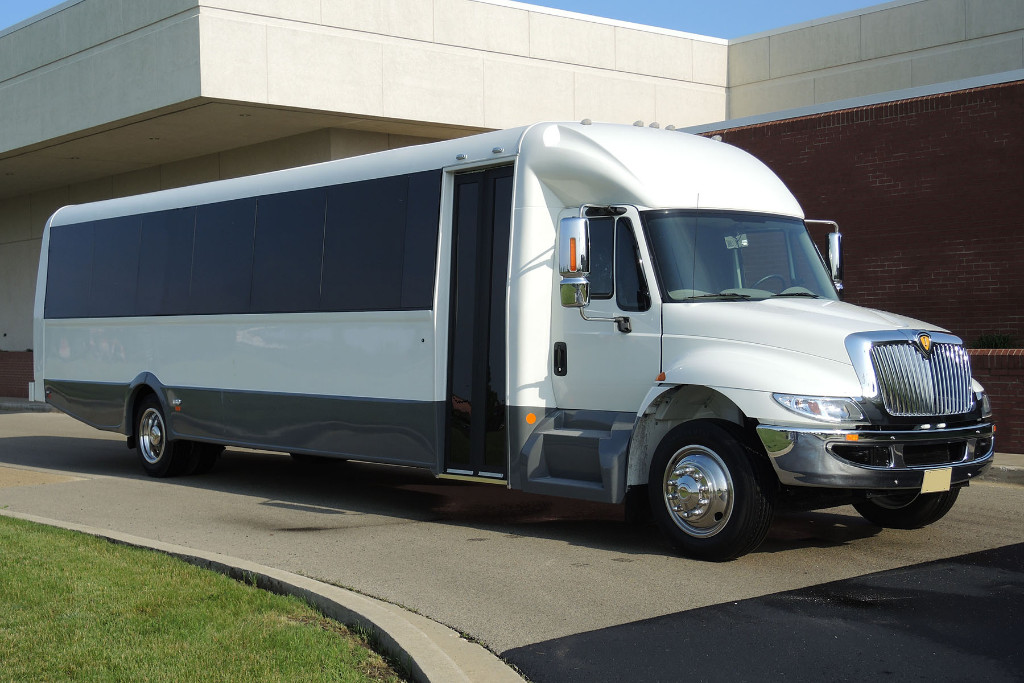 Built on a rugged and dependable International chassis, this Premier bus brings power and performance for the road ahead with the true large capacity luxury that sophisticated and corporate travelers have come to expect from Federal Coach.
This Premier model makes a statement before its passengers even board. With it's sleek lines, tall profile and beautiful fit and finish, passengers will instantly know that they're ready to roll in true Premier style.Amazingly quiet and superbly comfortable, the list of passenger amenities is practically endless. Highlights include a choice of conventional or limo seating configurations, elegant lighting options, huge LCD flat screen TVs, and even available luggage options for trips that require them.
SPECIFICATIONS
Seating capacity: Up to 44 passengers
Wheelbase: 270" & 305" Wheelbase
GVWR: 27,500 & 30,000 GVWR
Chassis: International
Engine: 245hp DT Engine on 30,000 GVWR; 260hp Maxx Force 7 Engine on 27,500 GVWR
Buy Bus Parts Online
Unbeatable Prices, Dare To Compare!