Matthews Buses Commercial Offers Commuter-Sized Buses For Sale Nationwide
Does your enterprise require excellent buses for daily commuting purposes? Matthews Buses Commercial offers a wonderful selection of new and used commuter vehicles for sale. Our inventory includes products designed to meet the needs of educational institutions, assisted living centers, hotels and motels, vacation tour groups, amusement parks, and group homes.
Serving Your Transportation Needs Nationwide.
Matthews buses caries a great selection of NEW buses for sale if you are looking to buy a bus.
View Our Inventory Now
We carry commuter buses in variable sizes. Choose a new vehicle seating a maximum of 14 passengers. You may also select one with seating for 16 to 25 people. We also carry large commuter buses with a capacity in excess of 25 passengers. Regardless of the size of your business or institution, we offer high quality, attractive products designed to supply cost-efficient operation and a comfortable ride.
Our supply of previously owned commuter buses varies based on availability. If you share your goals for your next vehicle with us, we'll work closely with you to locate the perfect vehicle for your purposes.
>> Related Content: Travel Buses For Sale
One Illustration: The Superb 2018 Elkhart ECII
For example, we offer the popular 2018 Elkhart ECII. Available in a range of sizes, it will seat 24 passengers and a driver. Standard models offer a generic white exterior coat paint with easily-maintained interior gray trim.
This brand utilizes standard automatic transmission and gasoline-powered engines. This combination helps ensure an easy driving learning curve as well as readily available fuel sources. Replete with a reliable Ford E-450 engine and a 6.8L fuel tank capacity, these energy-efficient commuter buses also supply amenities such as driver armrests, secure entry doors, and low-to-the-ground entrance steps. Your staff will appreciate the ease of driving and maintaining these magnificent vehicles!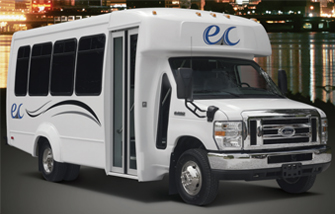 Some Other In-Demand Models
We maintain a diverse selection of commuter buses. Choose gasoline or diesel-powered fuel options. When you visit our website, you'll discover other new vehicles advertised there, too. Some of the available products include these widely popular makes and models:
• 2018 Startrans Candidate II Transit;
• 2018 Startrans Senator II;
• 2018 Ford Transit Conversion;
• 2017 Embassy E275, and more!
If your enterprise has invested effort seeking to locate highly cost-effective additions to your commuter fleet, you'll want to spend some time evaluating the outstanding products in our inventory. We've assembled reliable brands produced by some of the leading manufacturers in this highly specialized market niche.
We Offer Service Nationwide
Based in Orlando, Florida, our company offers commuter buses of all sizes available for sale nationwide. We've developed a loyal customer base by rendering outstanding, individualized service. Let us help you research your next bus purchase.
If you have any questions about the products we carry for sale, simply let us know. We'd like to become your enterprise's trusted resource for resolving commuter bus transportation concerns. Our staff strives to provide knowledgeable, accurate assistance. Call us at 1-800-330-1175 to discuss your fleet's needs and requirements, and to receive personalized concierge assistance as you compare and evaluate different commuter bus products.
Take Decisive Action
If you do discover a specific vehicle of interest to you as you review our website, consider contacting us as soon as possible. Our inventory changes with some frequency. We'll make every effort to assist you during your search for a new or pre-owned commuter bus.
Whether you'd appreciate scheduling a test drive, or your need a detailed copy of the specifications, our staff remains available to provide personal, caring assistance. We want to help you locate the best commuter bus for your enterprise!
Please browse our online showroom and let us know if you have any questions. If you can't find the bus you are looking for, we can build one for you.
Please browse our online showroom and let us know if you have any questions. If you can't find the bus you are looking for, we can build one for you.