Travel Buses For Sale From Matthews Buses Commercial
We, at Matthews Buses Commercial, understand how important it is to buy reliable travel buses. It is wholly unproductive and unwise to invest in a bus that may not make it to your next destination. The time and losses are definitely not worth the effort.
Serving Your Transportation Needs Nationwide.
Matthews buses caries a great selection of NEW buses for sale if you are looking to buy a bus.
Standing Out From the Crowd
Matthews Buses stand out from the crowd. Part of what we do is analyze transportation needs based on the customer's requirements, making it a lot easier to offer the right solutions. This is the reason many industries trust us with their assisted living transportation needs or their city transportation needs. Those who need traveling buses can find the right vehicle here, too.
Quality Inventory You can Expect From Us
One of the most sought after models in our inventory that could seat more than 26 people and can definitely meet your traveling needs is the 2017 Startrans Senator II MVP. This is a colossal bus that comes with all the perks you would expect from a traveling bus, from plush, comfortable seating to plenty of storage space. Of course, this is just one example, but we do carry a number of models such as following:
• Braun
• Elkhart Coach
• Federal Coach
• Goshen Coach
• Indbus
• Thomas
It should be noted that we carry a number of used transportation options, which is great for those who are just starting off and do not want to eat up their cash too quickly. Still, we do make it a point to make sure that our prices stay competitive, but you can see this for yourself.
>>Related Content: Church Buses for Sale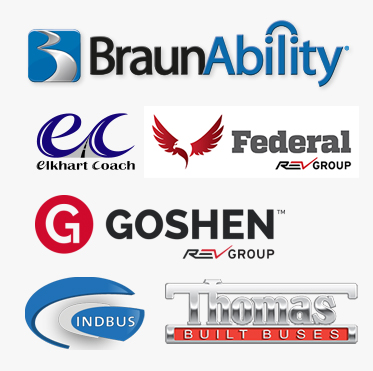 Our Knowledge Gives You Power
We have made it our goal to hire only passionate and experienced representatives to ensure that you are served by someone who knows how to match your needs with the right vehicle. Traveling buses come with a number of great perks, such as variations in gas intake and great fuel economy, which can end up saving you money in the long run.
The Spirit That Drives Us
One of the most important things our team has developed is the "Legacy of Trust." This is something our team members truly believe in and our long-time customers have learned to depend on. We promise to only offer the highest quality vehicles. We will ensure that you are an informed customer before making any decisions regarding which vehicle to purchase. Our team will talk to you about sales promotions, warranties, services needed, and even the parts you will eventually need later on.
Extent of Our Services
We will teach your fleet everything there is to know about maintenance to make sure that your bus continues to run without a hitch for a long time, even if you are going to do some long-haul traveling. We are pretty proud of our team, our name, and the kind of services we provide. Matthews Buses Commercial is not here to convince you that we are the right company for you rather we want to earn your trust with actions and results.
We have been committed to providing excellent service since 1979 and it is has earned us the respect of various customers, such as transit authorities, schools, and churches.
Be sure to check out our entire inventory to meet your traveling needs, such as the 2017 Embassy E275 that comes in a beautiful black finish, which makes it quite eye-catching. We also carry the brand new 2018 Elkhart ECII, which is a hot ticket item worth considering. For further information, contact one of our representatives to see which vehicle is right for you.
Please browse our online showroom and let us know if you have any questions. If you can't find the bus you are looking for, we can build one for you.
Please browse our online showroom and let us know if you have any questions. If you can't find the bus you are looking for, we can build one for you.