Large Commercial Buses
Are you looking for a large bus for sale that's reliable, durable, comfortable, and safe? Matthews Buses Commercial has served the Central Florida area for years with excellent transportation services that will meet all of your requirements. With our vast inventory of large commercial buses from numerous respected manufactures, we are confident you will find one to suit your needs.
Depending on your transportation needs, it may be better for you to purchase one of our many large sized commercial buses. This can sometimes be a tough decision to make, but with Matthews Buses Commercial, it's not a decision you will have to make alone. We will help you determine what size bus will be best suited for your needs and better for you as a long-term investment. Our large buses transport dozens of people that allow them to navigate highways, drive through city streets, and cover distances between airports, all the while sustaining comfortability, safety, and efficiency.
Commercial Buses for Large Groups
Matthews Buses Commercial is a top seller of large commercial buses which can hold a large number of passengers. Regardless if it's a school district that needs an upgraded fleet or an organization; Matthews Buses Commercial has large size buses that are the perfect solution for you. Our company can also customize your bus to meet precise specifications such as wheelchair and handicapped accessibility, detailing, and more. At Matthews Buses Commercial we promise to deliver quality and value to every one of our customers.
Our Large Commercial Buses
Matthews Commercial Buses sales and service teams are great, but a significant reason why we're the right fit for you is due to the quality of our inventory. We represent bus manufacturers such as Battisti Customs, Berkshire Coach, Goshen, StarTrans, Thomas, and more. Our extensive commercial buses meet diverse needs. All of our buses fit or exceed rigorous federal safety and durability standards. Matthews Buses Commercial stands behind every new and pre-owned bus with pride.
Buying a large bus is a huge investment, and it's one that you expect to last. The parts and service department at Matthews Commercial Buses can maintain and repair your vehicle quickly and accurately. We will also provide you with a substitute vehicle while we repair your bus. The Matthews Buses Commercial technicians have years of experience are highly trained and certified to work on your bus. You can feel confident that you will always get the value you expect and deserve when you purchase a bus from us.
Matthews Buses Commercial the Ideal Solution for Large Buses
When you're ready to buy a new or pre-owned bus to transport your large group, talk with our expert team at Matthews Buses Commercial. Our team works diligently to find the best possible transportation solutions for our customers. For more information on our large buses, contact us today at 800-330-1175
Buying a Large Bus
Transporting a large number of people can be costly at times, especially where there are no railway lines and good roads to be accessed by a large number of cars. The only alternative to this is obtaining an extensive bus where one can transport the entire group of people in one single trip. This is a simple strategy that does not require you to move about trying to negotiate with different cub companies on how much they would charge you, the discounts, and other after-sales services.
At Mathews Buses Commercial, we provide you with an opportunity to buy a large bus that will eradicate transportation menace in your life. Our large variety will give you an opportunity to select the most suitable bus that you would like to have for your company, school, or even for commercial purposes such as tours and travels. We provide an extensive list of large buses with their specifications such that you will only need to go through the list before making that decision to change your transportation strategies.
Given that we have been in this industry for a significant period, we understand that financing the purchase of an asset is a challenge for many interested parties. Not many individuals out there can buy a large bus by paying once. We have developed a friendly financing strategy, through lease, which helps you to acquire the bus and start operating without paying upfront. Our lease strategies are formulated such that they can allow our client to choose the financing strategies that work for him or her.
Mathews Buses Commercial is not the kind company that formulates you a deal and only leaves you with an option to take it or leaving it. We have gone further and formulated different lease programs such that we leave you flexible enough to determine what you want depending on what you think would cater for the financial needs of your company.
Related Content >> Shuttle Buses
Serving Your Transportation Needs Nationwide.
Matthews buses caries a great selection of NEW buses for sale if you are looking to buy a bus.
Some of the lease programs available include:
$1 purchase option lease
Closed-End Lease
Operating Lease
Turnaround Rental Adjustment Clause (TRAC) lease
Finance Lease
There are myriad of benefits you are likely to enjoy if you choose to acquire a large bus through our lease financing programs:
Access to some tax benefits
Enhance the liquidity of your company
Maintaining the borrowing potential
Avoid initial cash outlay which will affect your cash flow statements
Avoid the risk of obsolescence
You could even shift some administrative and maintenance costs through some of the lease programs.
In case you are considering buying a large bus with an adequate capacity to transport more than 25 passengers, consider our New 2017 Startrans Senator II MVP.
Startrans Senator II MVP Description:
White exterior
Gasoline for fuel
A capacity of 28 passages plus the driver
The door is controlled through an electric entry
It has overhead luggage on both sides
The bus has stainless steel wheel inserts
Non-retractable lap seat belts
And Ford E450 212″ WB 6.8L Gas Engine Among others.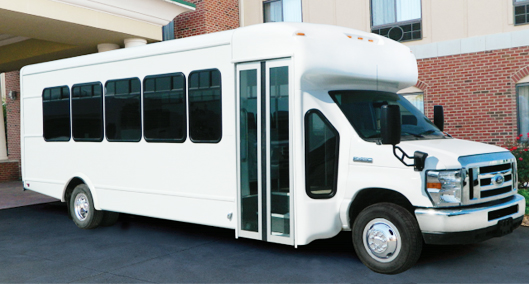 Startrans Senator II MVP
Are you looking to buy a large bus for your first time? We clearly understand that it might be hard for you when making this decision for the first time. We have a very concerned team of personnel available to walk you through our buses so that you can make a sound decision. We will also assist in selecting the best financing program if you do not have enough cash outlay to purchase the bus.
Mathews Buses Commercial have different buses based on capacity, model, cost, fuel, fuel consumption, and engine capacity among others.
Please browse our online showroom and let us know if you have any questions. If you can't find the bus you are looking for, we can build one for you.
Please browse our online showroom and let us know if you have any questions. If you can't find the bus you are looking for, we can build one for you.