Mid-size Buses
Matthews Buses Commercial is a leading distributor of medium buses across the US. Our mission is to provide the highest quality medium buses to our customers. We have many medium duty buses on sale that come with amazing warranties and spare parts. We also have a team of highly experienced and skilled personnel that will offer top-level services and guarantee your satisfaction.
Our minibuses provide a space for between 15 passengers and over 25 of them. This means that we have the needs of different commuters covered. All you have to do is define your needs and choose the type of medium bus you want. For fuel type, you can choose between gasoline and diesel. You also have to decide on the features you want included such as wheelchair accessibility.
When it comes to finding the right-sized transport vehicle that's also reliable, durable, comfortable, and accessible, Matthews Buses Commercial is your answer. Our extensive inventory of new and pre-owned mid-sized buses and full-service repair department make our company a leader when it comes to transportation services. We have the most reputable brand name buses in the industry and we fully-service each one of them. That is what makes Matthews Buses Commercial a transportation company you can depend on.
In certain situations, businesses and organizations will need a specific amount of space to transport groups of people to different locations around the community. These locations could be daycares, college stadiums, or political campaign committees. No matter the destination, you can rely on Matthews Buses Commercial to get you there with our midsized commercial buses for sale or lease. Onboard our buses you will notice that our seating arrangement will be easy for you to understand and meet all your safety requirements during the transport. Don't worry about being stuck on a hot, sweaty bus; with our climate control you will always stay relaxed and comfortable. Also, you will see we have shaded windows, interior lighting, and spacious areas for your luggage that are included. Our transportation company will make sure you get a bus that is affordable, comfortable, and high performing.
Matthews Buses Commercial has Mid-sized Buses for Your Needs
Matthews Buses Commercial has a vast inventory of mid-sized buses. If your business or organization requires a medium size bus that requires 15 people are fewer than we are the perfect choice for you. Our mid-sized buses come in a variety of configurations and also have room for accessibility equipment. This means our buses can safely and comfortably transport passengers of all abilities. If you find yourself in a situation where you need to transport up to 30 people, and you have a valid driver license, Matthews Buses Commercial can help you with that too. We have a vast selection of new and pre-owned mid-sized buses for sale and lease. Also, Matthews Buses Commercial is well-equipped to service your vehicle with professionalism and convenience
Matthews Buses Commercial Parts and Service
Every vehicle, regardless of quality or size, needs regular maintenance to keep it running effectively. The parts and service department at Matthews Buses Commercial makes it easy to keep your mid-sized bus running effectively. At Matthews Buses Commercial, our technicians know your vehicle best. Therefore, we can diagnose and repair your mid-sized bus and get you back on the road as quickly as possible.
Matthews Buses Is Your Best Solution for Reliable, Safe, and Durable Transportation
Matthews Buses Commercial has provided reliable, safe, and durable transportation to the Central Florida area for years. Our extensive inventory makes it easy for us to find you an accessible and efficient mid-sized bus.
You can also take advantage of our available super deals. Below is a review of the top 2017/2018 models that we have newly introduced into the market.
Serving Your Transportation Needs Nationwide.
Matthews buses caries a great selection of NEW buses for sale if you are looking to buy a bus.
1. Braun Dodge Grand Caravan SE
This medium bus has room for 5 passengers and 2 positions for wheelchairs. Its transmission is automatic, and it is powered by gasoline. The exterior of the bus is white. Its Braun Power ADA Conversion features:
Power Doors
Power Ramp
Kneeling System
Braun Dodge Grand Caravan SE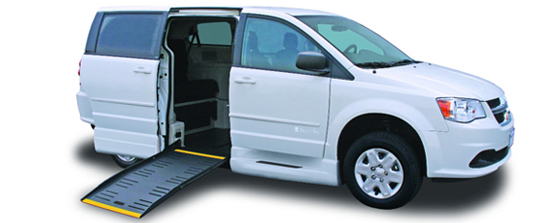 2. Elkhart ECII
This is the perfect choice for people looking to go on a road trip in a group of over 20 passengers. It has:
Chassi- E-450 190″WB 6.8L Gas Engine, 14,500# GV
Stock- 17E-024
Dual compressor- RAC 2030 Super 90k Btu D
Heater- 65k Btu Rear
It has room for 24 passengers, is gasoline fueled, and it has a white exterior and a gray interior.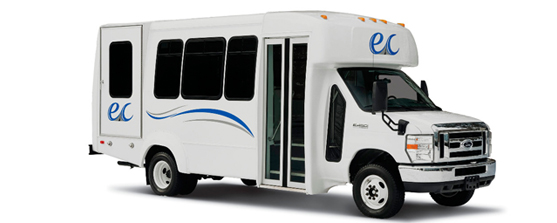 3. Embassy E275
This medium bus has a black exterior and an automatic transmission. The bus can carry up to 21 passengers and a rear luggage. It has:
Stock- 17EM-005
Engine- Ford E450 158″WB 6.8L Gas Engine
PROAIR- RT6595 TM-21 Combo 80K AC / 95K Heat
Floor: Gerflor #0658 Soft Brown
Embassy E275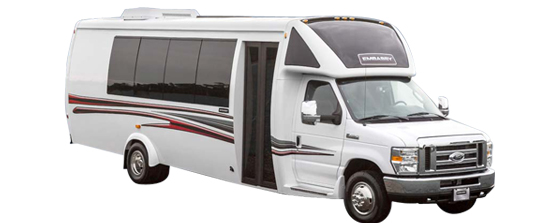 4. Ford Transit Conversion
The Ford Transit Conversion is ideal for people looking for an automatic medium bus. The bus has a grey interior and a white exterior. It can carry 4 passengers and the motor falls on the power group 150 std. 2 wheelchairs, a driver, and a copilot. It also comes with a Running Board – Driver-Short/Passenger-long heavy-duty running boards.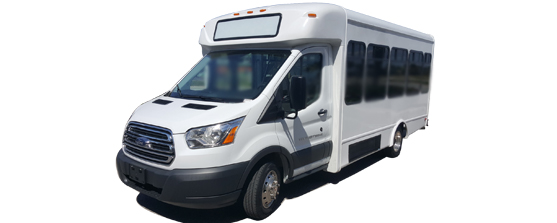 5. Startrans Candidate II Transit
This 13-passenger minibus features a white exterior and black interior. It has a rear luggage carrier, which makes it perfect for long-distance travel. Its specs are:
Stock : 17S-068
Engine- Ford T350 158″WB 3.7L Gas
A/C- 60K BTU
Heater – 45K BTU
Door – Electric Entry with 36 " Width
Floor- Gerflor Sirius 6801 Graphite Black
Startrans Candidate II Transit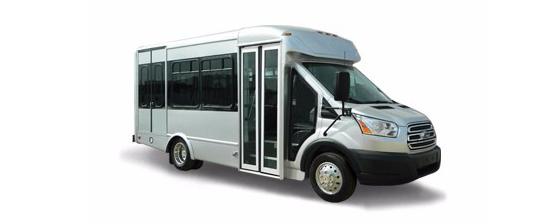 6. Startrans Senator II
This 14-passenger minibus comes with a rear luggage carrier and a driver's seat. It has a white exterior and is gasoline fueled. It features 1¼-inch dual entry grab rails that are parallel to the entrance steps. Behind the driver's seat, you will find a stanchion and modesty panel. Its transmission is automatic and other specifications include:
Stock- 17S-159
Engine- Ford E450 6.8L Gas
A/C- 70K BTU
Heater- 45K BTU
Standee Line- White,
Interior Walls- Grey FRP
Startrans Senator II
The above models are just a few of the buses in our unique fleet. You will also find other models by reviewing our list of other Elkhart ECII ans Startrans.
All the above medium buses come fitted with retractable lap seat belts, lighting (interior and exterior), fire extinguishers, a grab rail, a first aid kit, a radio, an alarm camera, triangles, and an overhead luggage carrier, among other amazing features. LED lighting is featured in the exterior and interior parts of the minibuses in varying themes.
After picking the minibus that you want from our list, check its availability and finance application.
Please browse our online showroom and let us know if you have any questions. If you can't find the bus you are looking for, we can build one for you.
Please browse our online showroom and let us know if you have any questions. If you can't find the bus you are looking for, we can build one for you.